Why start a Web Development Company?
My name is Andoni Del Vecchio and I started Launch Site LLC last year with my colleague Andrew White.
Our mission is simple, to launch companies into orbit through modern web design by using the latest development technologies and practices. Creating and implementing beautiful websites that get results is our goal, and we'll do everything possible to make that happen.
There's something about helping other businesses grow and succeed that really gets us more engaged with our work. For anyone looking to create a B2B operation, we highly recommend giving a shot, the reward is amazing.
How did Launch Site begin?
While we were in Engineering School at Stony Brook University, Andrew began working on several websites as a freelancer in his spare time. I remember him telling me all about a few really cool projects and how much he enjoyed helping businesses take a leap forward in the digital world.
After graduating, I began my professional career in a sales & marketing management position for an Integrated Circuit company. Part of my duties included upgrading the company's online image by updating their website and creating a social media presence. I worked closely with the software engineer to enhance the company's image and bring their website up to par with our competitors.
It was in April of 2019 when Andrew approached me with the idea to start a web development company. He was working as a software engineer in San Diego at the time. Initially, we wanted to create a second source of income for ourselves while working on something we already love doing in our spare time.
Given my experience already helping rejuvenate a company's online image, I knew I wanted to be a part of this opportunity and really looked forward to the idea of helping other businesses and people with their own online image.
The position at my first company also gave me much-needed insight into how engineering companies run in general. I was in a key position that interfaced with several divisions of the company in both the front of the office as well as the engineering departments. Besides communicating with customers, distributors, and representatives on a daily basis, I was often involved in engineering and executive meetings as well.
Combining my background with Andrew's incredible skill set and experience as a software engineer gave the two of us enough know-how to start Launch Site, and begin conducting business in a professional manner.
Deciding on the Name and Logo
After a few discussions and several brainstorming sessions on what the company image and brand would look like, we ultimately decided that a space-theme fits us best. With recent discoveries and the many space exploration and advancement projects currently underway by SpaceX, NASA, and others alike, we believed it was a perfect time for space-related imagery.
We loved the name Launch Site because of the literal and hypothetical idea of "launching" companies to the next level from a digital perspective.
The logo went through quite a few iterations. We drew up some really great concepts and, also had outside sources work on new ideas as well. Eventually, we settled with the Saturn-looking logo. Something about the sharp curves and modern color palette caught our eye. One question that helped us make our final decision was asking ourselves if we would wear the logo on articles of clothing – easy yes.
Creating and Launching the Launch Site Website V1.0
Version 1.0 of Launch Site's website kicked off in June of 2019 as soon as we decided to pursue this venture. Andrew and I would spend a few hours in the evenings after our 9-5 jobs and all weekend long designing mockups for the landing page. This was the perfect opportunity to learn and discover our entire workflow process for future clients by trial and error using different programs.
Some of the tools used during this early stage include:
Figma is my personal favorite tool that is constantly improving. Figma is a web-based collaborative interface design tool that allows multiple team members to work on design mockups simultaneously in real-time. Since the program is web-based, all files are stored in the cloud and can be accessed from anywhere with an internet connection. It's awesome working on projects and seeing others work on that same project simultaneously directly in the web browser. Figma recently introduced a community and plug-ins that allow developers and users to create and share skills for all to use.
V1.0 of Launch Site's landing page went live in October 2019. We spent approximately 4 months working on this version – discovering our own design process, and learning the necessary tools and technologies that we would continue to use with future clients.
Getting that first customer #success
A huge challenge for any new business is finding those first few customers and producing effective results. Don't be afraid to tell people about your business and what you're offering.
This worked well for us – we knew that a word of mouth campaign targeting friends and family would be the most cost-effective solution to get our foot in the door. After talking to a few friends and planting the idea in their minds, we got our first client shortly after going live!
Getting that first client is really a spectacular feeling. We couldn't wait to get started and test our newly discovered workflow process. This was a great learning experience that led to some needed changes in our order of operation.

What does our Process flow look like?
Discovery
Research
Design
Code
Launch
Our entire workflow begins with the discovery process. This is where we take the time to talk to our clients and figure out their "why," more on this later. The discovery process is the most important and sets the project up for success.
The next stage is research – we spend as many hours as needed diving deeper into the industry at hand to determine what works and different elements or features that should be integrated.
Following our research comes the design phase. When designing new projects, we typically start with a simplistic overview of the landing page. From here, we'll piece together the overall theme of the project and work on creating the remaining pages.
Once the design is finalized, we start coding the site including all integrations. Projects are rarely coded to spec – that's because we'll start to notice some design flaws that don't always work the best in code. Upon completion, we'll finally get to our last stage and launch the website!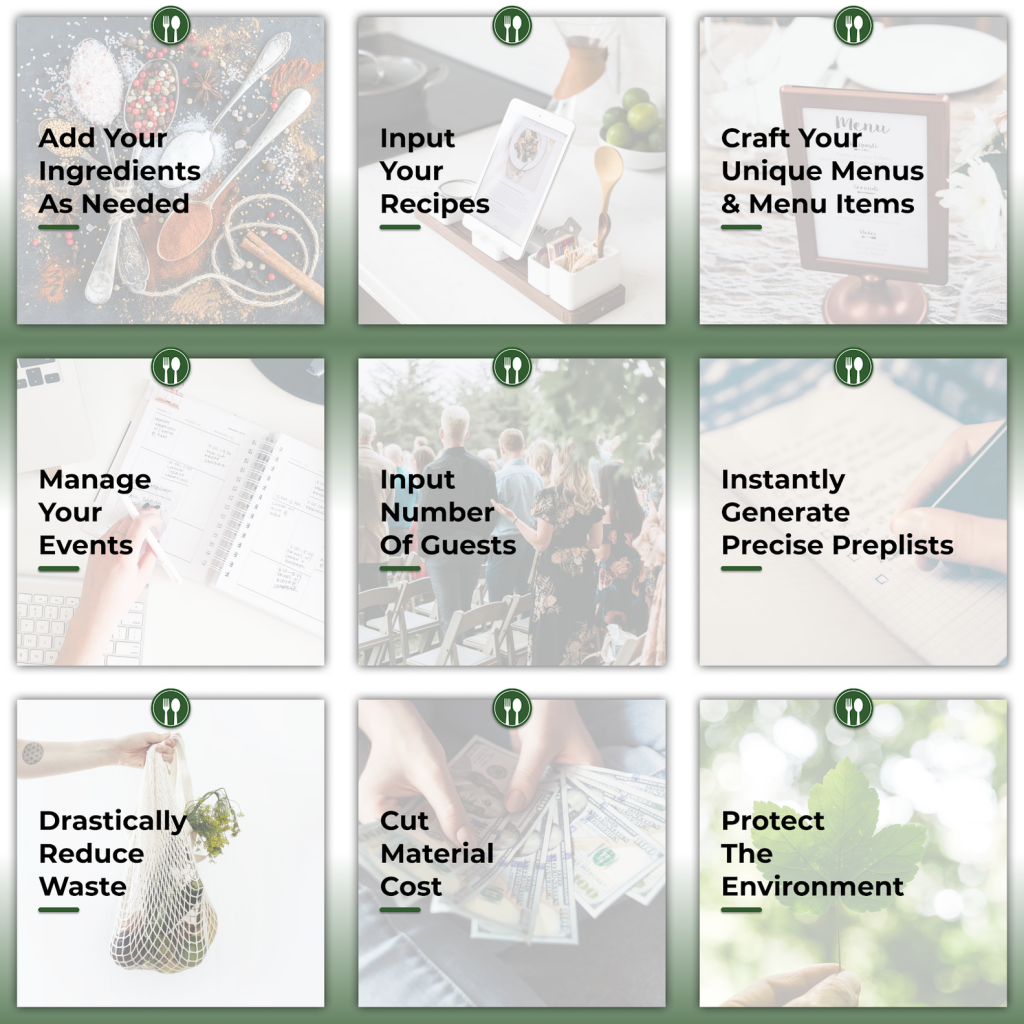 Favorite Project to date
It's hard to pinpoint one project to call my favorite – I've loved working with all our clients. One of the most exciting projects is definitely SimplyPrep – a web-based app focused on the catering industry. The app allows Chefs or venues to create their own account and store all of their proprietary recipes in one centralized location. The main functionality is to scale recipes to any given number which yields the exact number of ingredients to order for each event.
What I really like most about SimplyPrep is the app's sustainability mission of working towards protecting the environment by reducing wasted material. You can read more about SimplyPrep and its press release on our blog.
Tips for B2B Success
To really succeed in B2B business, you must:
Find a niche market
Work on something you truly enjoy
Start with why
Don't give up
It's very important to perfect your craft and to build a recognizable brand that resonates well with prospects. This includes building a memorable online presence and image – cue in Launch Site! Piece together a real marketing plan and do your best to follow it. There are plenty of resources to help you get started and to teach you the necessary skills for success. With a little, or a lot, of time and dedication, you'll find your niche.
Inspirational Books and Podcasts that we Love
One of our favorite books that we recommend to everyone is The 4-Hour Workweek, by Tim Ferriss. We love the way Tim talks about automating systems to make life easier. Working for only 4 hours a week someday would be great but it seems like we're sleeping for only 4 hours a day as of now.
Another great book that inspired us is Start with Why: How Great Leaders Inspire Everyone to Take Action, by Simon Sinek. Simon does an excellent job explaining how the "why" to your business is the most important element. We've taken this concept and use it to discover what makes our clients special. Once we understand their "why" we're able to open up the creative side to their website.
The Indie Hackers Podcast, by Courtland Allen, is one podcast that has inspired me to always push myself and constantly think of new ideas. Courtland invites founders of tech start-ups to come on the show and answer questions about their ventures. The founders do an awesome job diving into details and telling the listeners about tips to help others succeed by bootstrapping different elements of their business.