Pita Bowl is a new Greek concept restaurant on Long Island, NY – offering build your own gyros, salads, and rice bowls.
Our Services
Website Design
Wix to WordPress Conversion
Hosting
Maintenance & Support
Mailchimp Marketing Integration
"Launch Site LLC built my business a great website that really helps current and potential customers get a good feel for my company. Working with Launch Site LLC has been the most pleasant experience! Launch Site LLC website design team far exceeded my expectations on every front, and I have very high expectations. The end product is a beautiful website that embodies who we are as a company."
DEAN LEUNES – PITA BOWL, NY
Mission
To provide Pita Bowl with a modern website that fits their awesome brand and image. This was accomplished by getting a true understanding of who they are and why. After visiting Pita Bowl in Lindenhurst, NY – and experiencing their delicious food for ourselves, we knew which approach to take for this project. Not only did we plan to create a stunning website, but we also wanted to make their visiting customers have easy access to all ordering options and tools at their disposal.
Mobile Hero Section
The hero section defines the Pita Bowl brand while simultaneously providing visitors with easy-to-navigate call to actions. We decided to provide visitors with the three most important action buttons including ordering options, call, and view menu. At the bottom right of every page, you'll notice 2 floating buttons that remain in a fixed position throughout the entire site. The 'order now' button allows customers to quickly place an order from anywhere on the site. The 'subscribe to save' button gives visitors the opportunity to subscribe to their mailing list where they receive specials offers, discounts, and updates.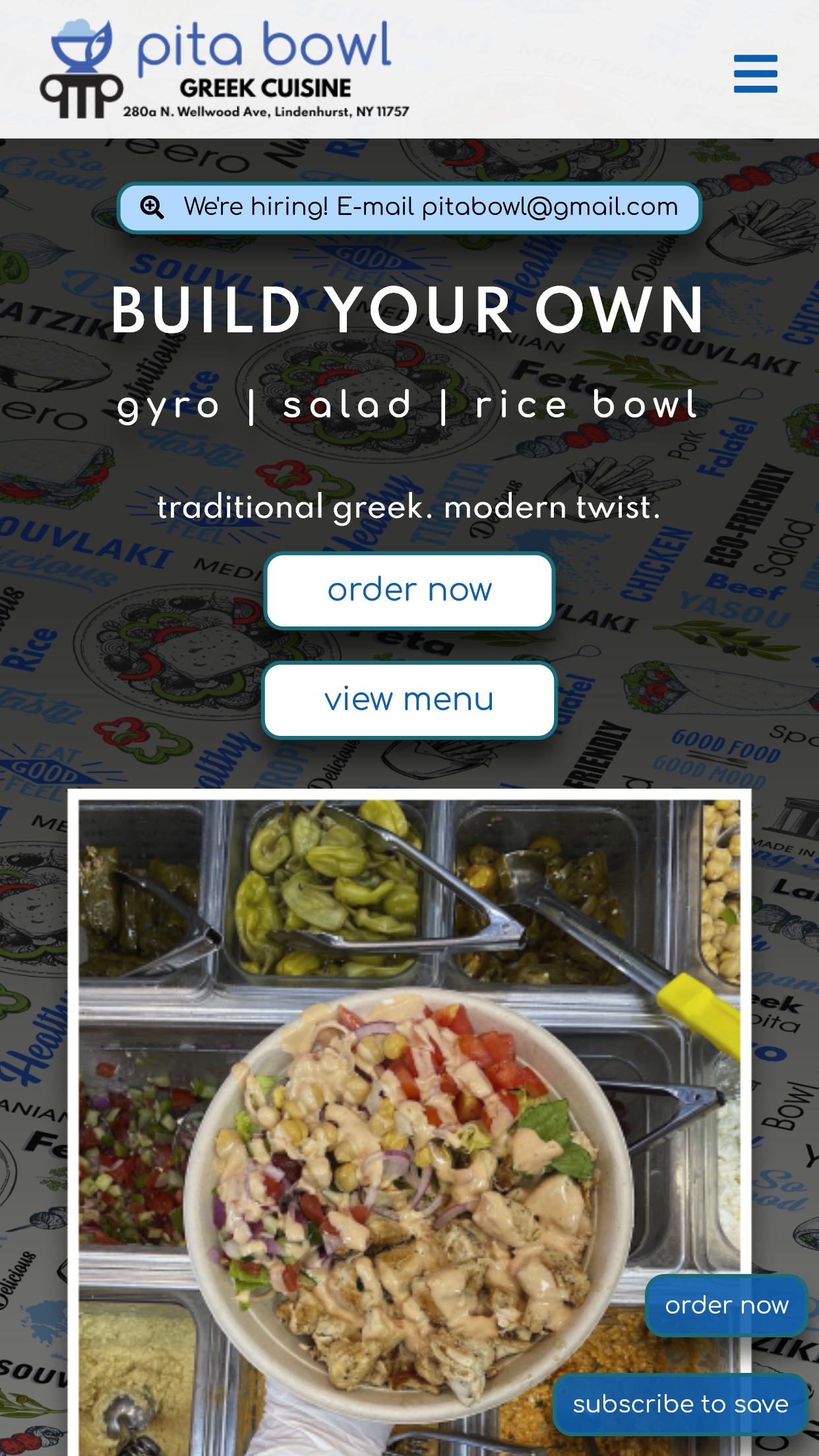 Order Now Popup
The order now popup form displays when a user clicks the floating 'order now' button located at the bottom right of the page. This gives customers the ability to select all ordering options including calling Pita Bowl, ordering online, or ordering through DoorDash!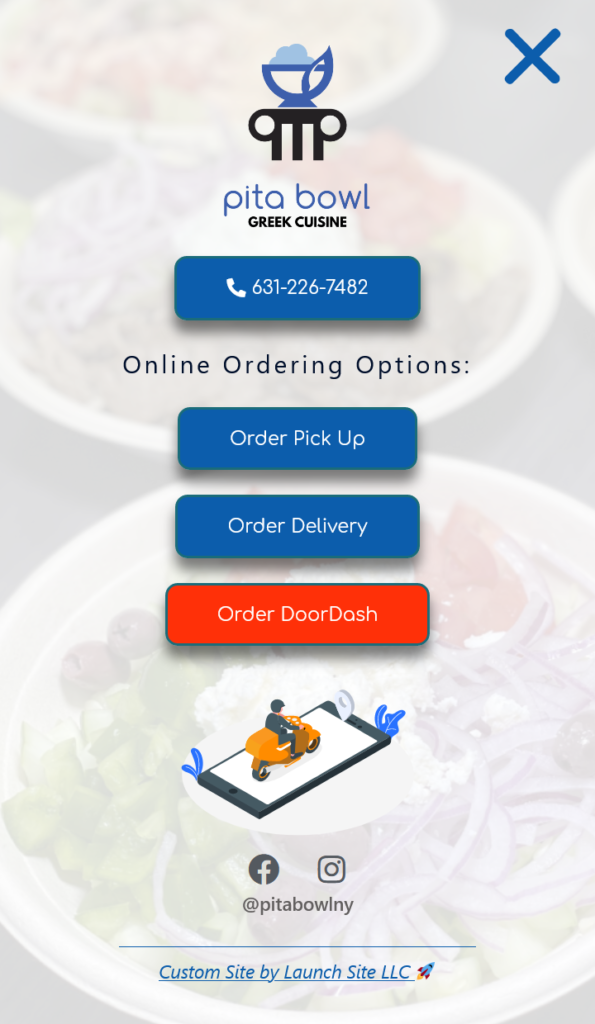 Mailchimp Subscription Popup
The subscription popup form displays on the landing page after 7 seconds. Since launching the new website, Pita Bowl has seen an uptick in subscribers by a factor of 10!
Responsive Menu Page
Any restaurant should have a beautiful menu page where their customers can view all menu items. Launch Site elected to build a responsive menu page that works on all screen sizes. Visitors have the ability to jump around the menu to different categories with floating buttons, resulting in a quick and easy way to navigate the menu.
Odering Options Page
Pita bowl offers a variety of ordering options for their customers including: calling them directly, ordering online, and ordering through food delivery apps. Launch Site created a page where customers can select their preferred ordering option with ease.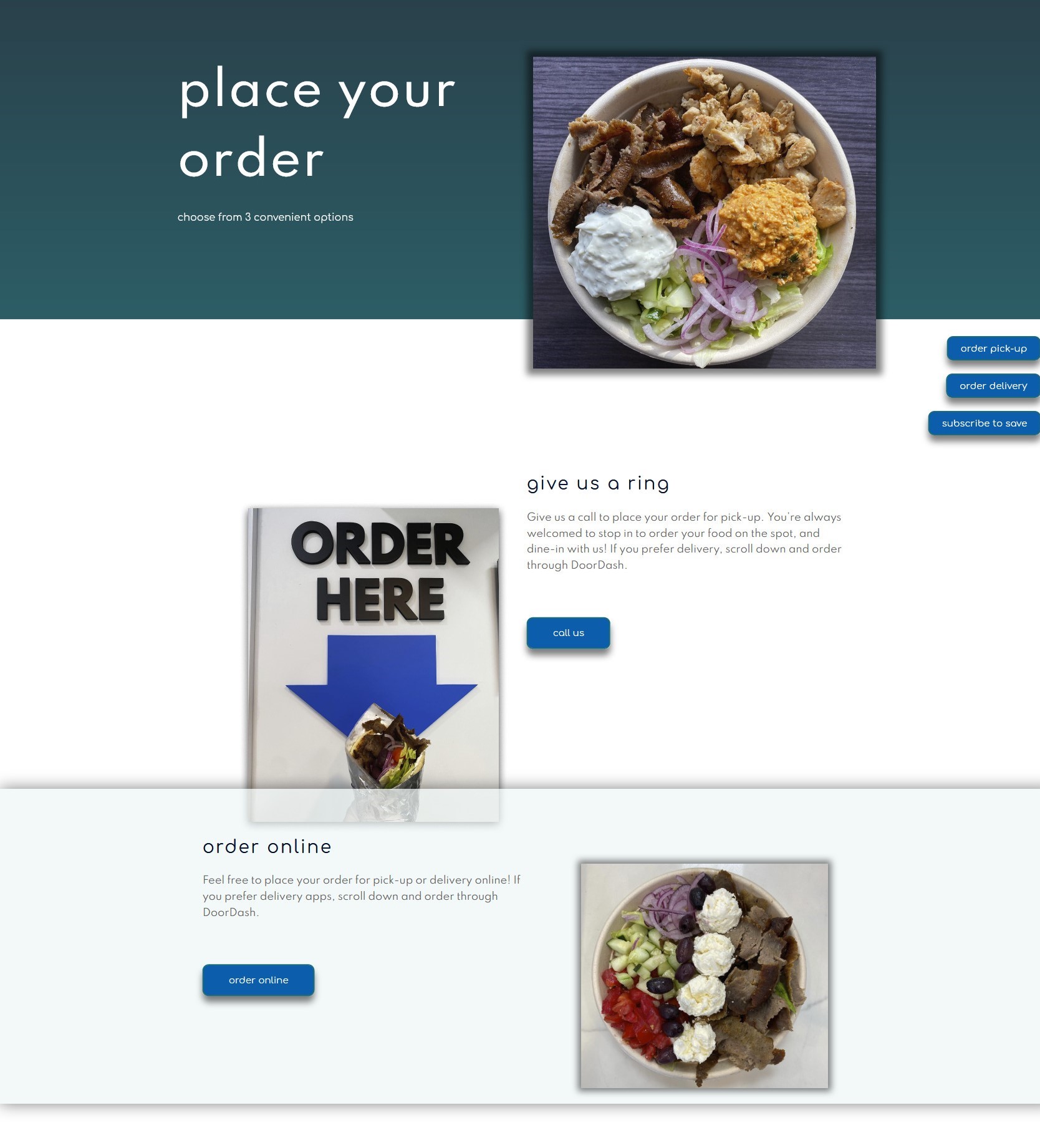 FAQs Page
Every business has frequently asked questions by their prospects that need answers. We created a designated FAQ page where visitors can find answers to the most common questions to improve efficiency and cut down on ordering time.